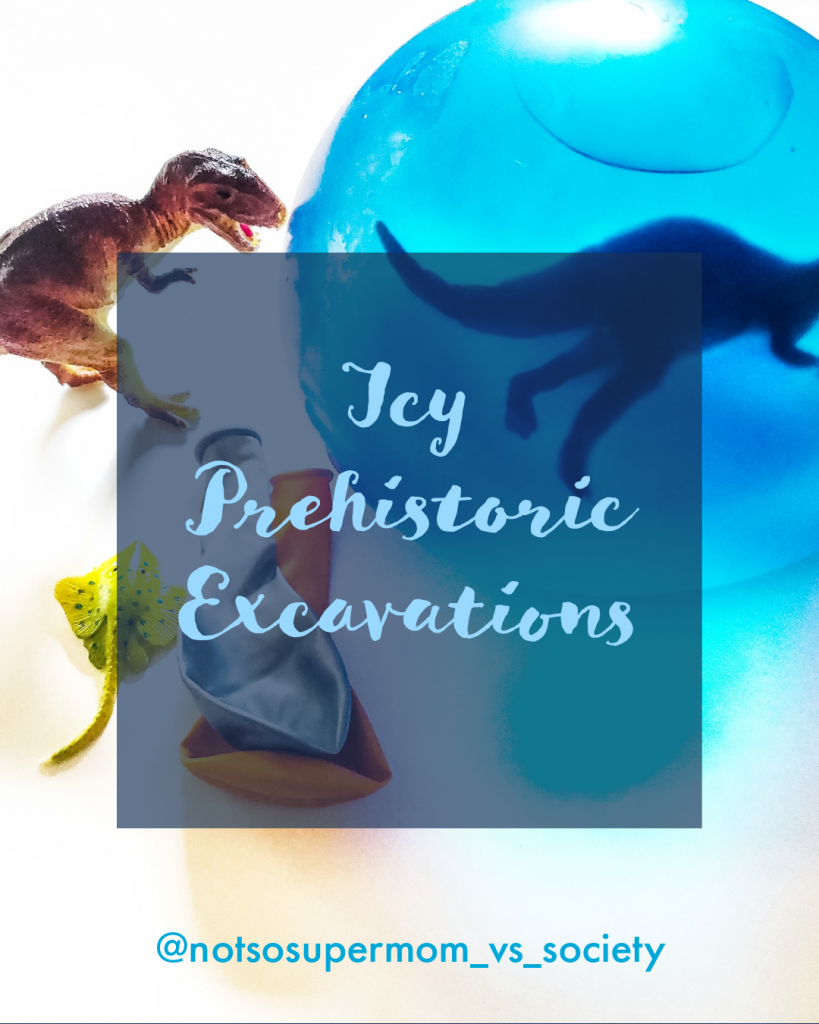 The awesome frozen dino excavation activity is super simple and an awesome sensory play experience. Ice play in general, is an absolute favourite sensory and science activity for small kids to explore! We have often enjoyed freezing and thawing objects, trying to work out how to release them from the ice blocks and as an added bonus, cooling down from the heat of the day!
Making Frozen Eggs
Making prehistoric eggs is super simple.We added our small dinosaurs (and a few random sea creature toys) to the inside of the balloons (this was a two person job) and then filled the balloons with water to be frozen over night. Be very careful adding the dinos- we had several balloons rip before we worked out a good system. You can add your balloons to a cookie sheet in the freezer if you don't want the ice eggs to have weird shapes.
Once frozen simply cut the balloons off the ice and you are ready to play!
Pro-Tips:

●Inflate your balloons a few times to stretch them out, making it easier to add the dinos.

●When you tie off your balloons, try to let all the air out of the balloon.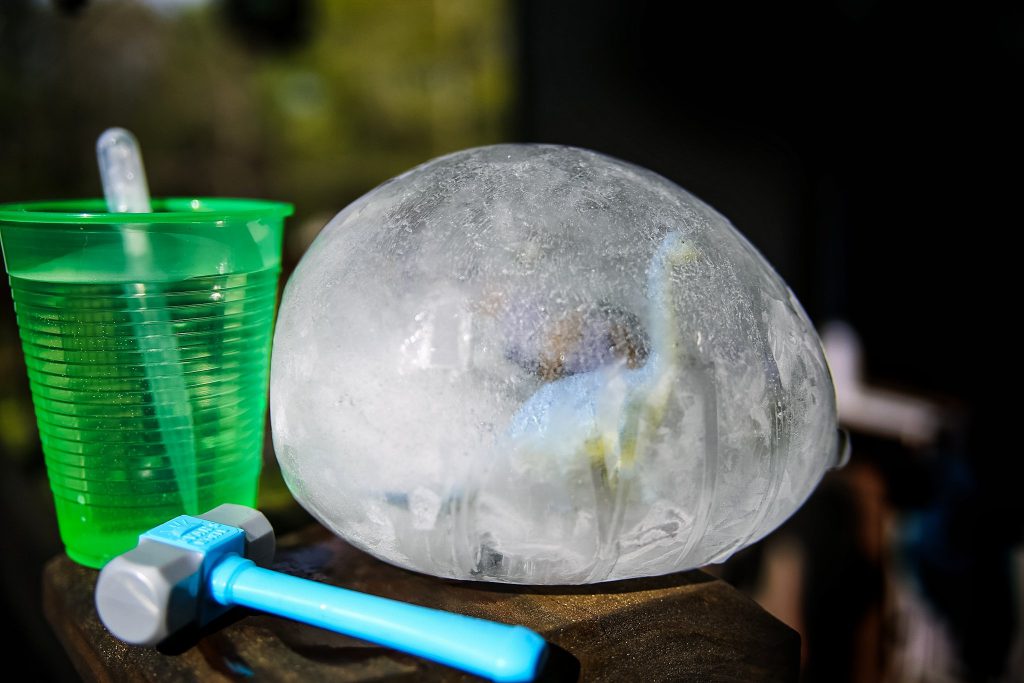 Excavation
For excavating, your imagination is the limit. This is also a great time to give them a problem solving question: "Oh no! The dinosaurs are trapped in the ice eggs. How can we help them to hatch out?!" You can ask your children to work together to try and come up with some methods and materials they might need, then see what they try out.
Within a matter of minutes, we had a collection of random items. Everything from warm salt water, a mallet, hammer, rocks, rolling pin, pipettes, forks, and spray bottles were brought out. We even threw a few off the porch to break them into smaller pieces.
It wasn't long until the first dinosaurs started to emerge from their frozen eggs, amidst excited shouts. Once they were freed they continued to work away at the ice eggs, chiselling and melting them down to small blocks. I was surprised that they worked through all 8 eggs that I had made. It took them over an hour to excavate all the dinos, all while providing a ton of heavy work, motor skill practice, and problem solving skills.
We used other small ocean animals for some extra fun, but honestly you could really have fun with what you add to your balloon eggs. Mix it up with food coloring, glitter, grass and twigs, and so on.
For more dino fun, check out my Free Dino Pictionary blog!