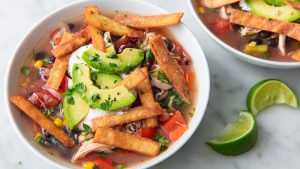 Cooking is like painting or writing a song. Just as there are only so many notes or colors, there are only so many flavors – it's how you combine them that sets you apart.

Wolfgang Puck
Ultimate Taco Soup
I think it's safe to say my Ultimate Taco Soup is one of the best recipes for taco soup I've made. It's an easily modified recipe that everyone will love, picky eaters included! There's really no way to go wrong with this recipe. This recipe has hints of chilli with added upgrades like avocado, corn, tortilla chips as well as the extra flavor of cilantro and cheese. Yum! If you're not a fan of spicy soup, or if you're making soup for the kids, you I leave the chilli out. Or, if you're a chilli lover, (like my husband), you could even add 2 to 4 chilli peppers- depending on how spicy you would like the soup to be.
Everyone has their own variation of the Ultimate Taco Soup, some people prefer for the soup to be thick like gravy, while others prefer watery and thin. My preference is a thicker, but not very dry, chicken or beef tortilla soup that is broth-based with many vegetables and toppings.
My Ultimate Taco Soup is perfectly spiced, chunky and easy to make. The broth has a deep rich essence that comes from the sautéed garlic, onions and cilantro- which release their flavor before the spices and broth are added. 
The tortilla chips, cheese and avocado that are added as toppings make the soup base thicken- giving it that luxurious and comforting feel. Yummmm…
You are definitely going to love this Ultimate Taco Soup recipe!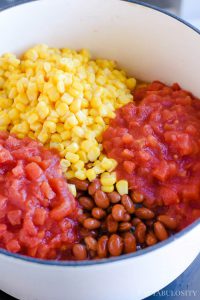 Ingredients 
For the soup : 
8 plum tomatoes, if you don't have plum tomatoes or want to save time, use canned tomatoes (I like to use the diced tomatoes with added garlic or bell peppers)

4 tablespoons of olive oil

4 cups chicken stock or beef stock if you're using ground beef

1 onion, diced 

3 garlic cloves, minced or 2 tablespoons of garlic powder

1 red bell pepper, diced

1 yellow bell pepper, diced

1 dried ancho chili pepper, optional 

2 teaspoons chili powder

2 teaspoons cumin, ground

Salt and black pepper, ground

3 ears of fresh corn or 1 8-ounce package frozen corn (optional)

1 15-ounce can peeled tomatoes

1 15-ounce black beans can or pinto bean can
1 15-ounce red kidney bean can (optional)

3 cooked chicken breasts, shredded chicken or 1lb of ground beef 
For the soup toppings : 
2-3 avocados, freshly sliced

Tortilla chips 

1/2 cup fresh cilantro, chopped

1 cup Monterey Jack cheese, shredded

Sour cream, optional

2 limes, optional

2 plum tomatoes, optional 
Instructions
Firstly, you would need to begin by roasting the tomatoes. You need to slice the tomatoes in half and add them to a pizza pan or baking sheet, they should be arranged with the skin side facing upward. Before adding the tomatoes to the pizza pan or baking sheet, spread around one tablespoon of olive oil, once you've added the tomatoes, drizzle them with another tablespoon of olive oil. I also like to lightly sprinkle them with garlic powder. You should then let the tomatoes roast until they begin to brown slightly and their skins wrinkle- for about 25 to 30 minutes. The oven should be preheated to 350F.
Using two tablespoons of oil, cook your chicken thoroughly or brown your ground beef. Sprinkle with salt and pepper to taste. When the chicken is done, cut it into small bite size pieces and set it to the side.
Now, in a large stock pot, heat the remaining two tablespoons of  olive oil over medium-high heat. Add the bell pepper, 1/4 cup cilantro, garlic and onions. Sauté for 5 minutes. Add the cumin and chilli powder, allowing it to cook for a minute. Begin to stir in the chicken/beef stock and the chilli (if you have chosen to use chilli) and bring to a medium-high heat to boil. You can then cover the pot and decrease the heat, leaving the pot to simmer for 15 minutes. Once done simmering, take out the chilli- remove the stem and cut to remove the seeds, but keep the seeds if you would like the soup spicier. 
In a bowl, combine the canned tomatoes, softened chili and roasted tomatoes, and use a food processor to puree the mixture for about a minute. Add the pureed mixture to the soup and leave the pot to simmer for about an hour. Now, add in the cooked chicken/beef as well as salt and pepper to taste. Finally, add the corn & beans and let the soup simmer for 5 minutes.
To garnish- ladle into bowls and add 3 or 4 slices of avocado, tortilla chips, cilantro (if there's a cilantro hater, leave this fresh cilantro out), diced tomatoes, and 2 tablespoons of cheese that's shredded. 
To keep the avocados from browning, squeeze a quarter of a lime over them. You can add the lime quarters on the side to add fresh brightness to the soup, or you can squeeze them yourself prior to serving. I personally love the extra zing.
Finish the soup off with a spoonful of sour cream (not necessary, but it tastes so good!). All that's left to do now is to serve the soup and enjoy!
Frequently Asked Questions
Can the Ultimate Taco Soup be frozen?
Yes it can, however, before heating be sure to thaw the soup at room temperature to avoid the vegetables turning mushy.
Can I leave the cheese out?
The broth won't be as rich and thick, but yes, you can. You would just end up having a leaner and lighter soup.
Is there a way to make the Ultimate Taco Soup Low-Carb?
Yes, you just leave out the tortilla chips or substitute it with something else crunchy.
Can I leave the cilantro out?
Yes and no, as with any ingredient, it can be left out- but, it won't taste the same as it would with the ingredient being included in the recipe. From personal experience, serving the Ultimate Taco Soup to cilantro haters, they enjoyed it. The illusive "soapy" taste gets removed during the process of cooking the soup. If you have cilantro haters in the house, just leave out the fresh cilantro at the end.