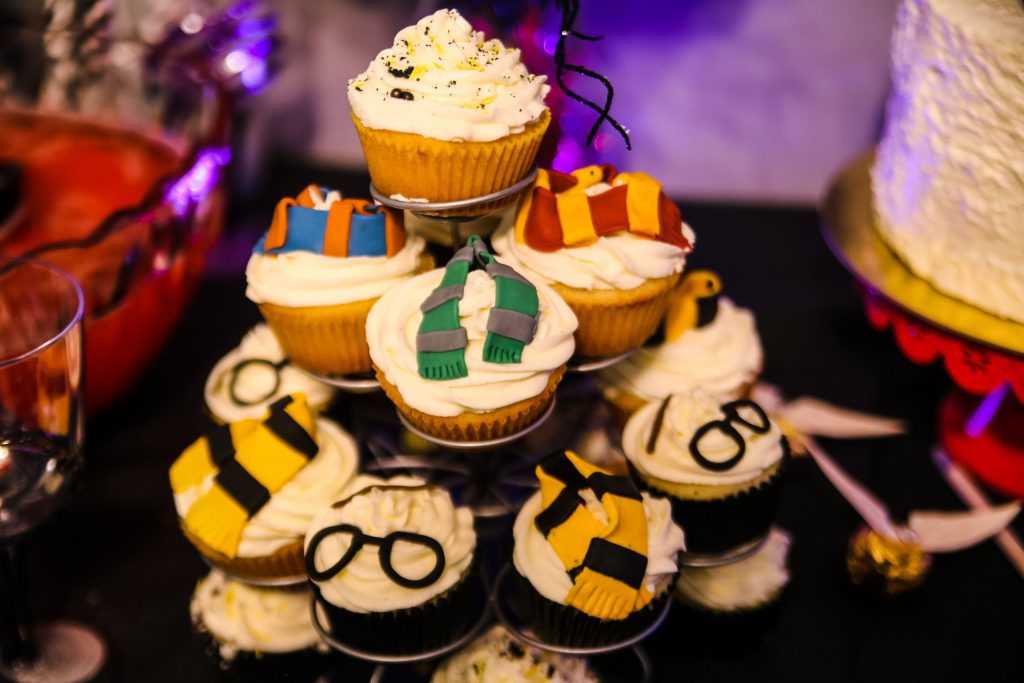 This last weekend, we loaned out our basement & backyard to some very dear friends for a surprise Harry Potter themed 40th birthday.
When our friend asked about using our house to surprise her partner, I said, of course, as long as we keep it safe. After all, one of the reasons we moved into this house was it's potential for entertaining.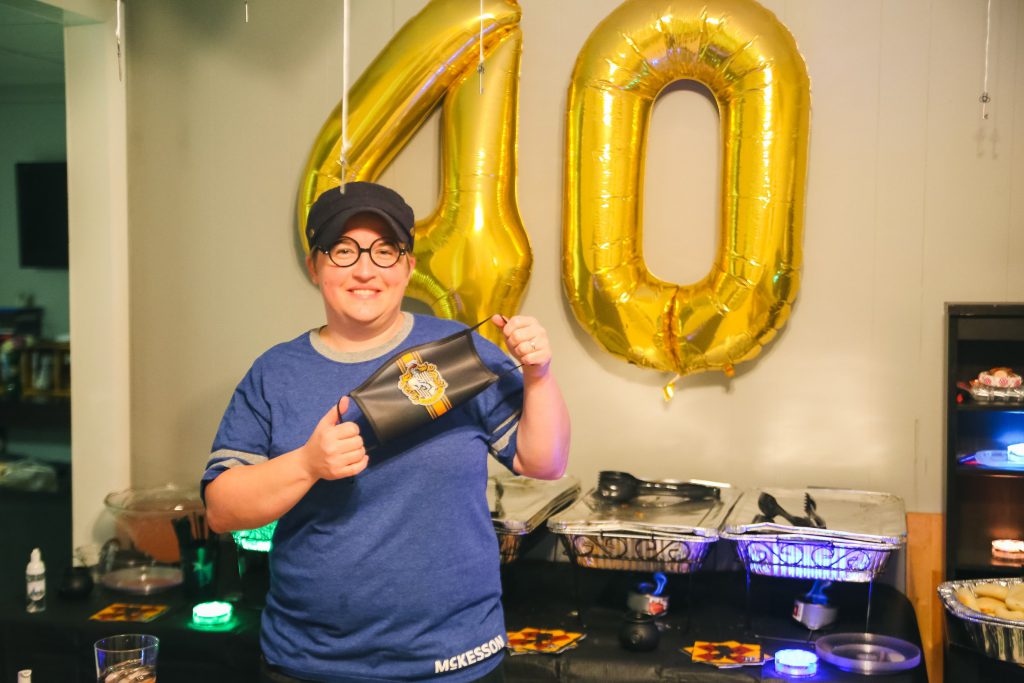 Ground Rules
Given that we are in the middle of a pandemic, one of the things I was adamant about was safety. We quickly established that the party would be primarily outdoors, where everyone could easily social distance and that we were capping the # of guests at 15- which included the 7 of us.
Guests were instructed to enter the party via our back gate, grab a Harry Potter themed mask & personal hand sanitizer. Given that the majority of the guests were in the healthcare profession, this wasn't an issue.
Guests were encouraged to stay outdoors, however we did set up food and drinks inside. When they came inside, masks were required & they were only allowed in the room with food & the downstairs bathroom. Upstairs was completely off limits-my children were going to spend the majority of the party up there and I wanted them kept as distant as possible from the crowd.
Ground rules for any party are important, but especially mid-pandemic. If your guests can't respect them, then you shouldn't be inviting them.
The Details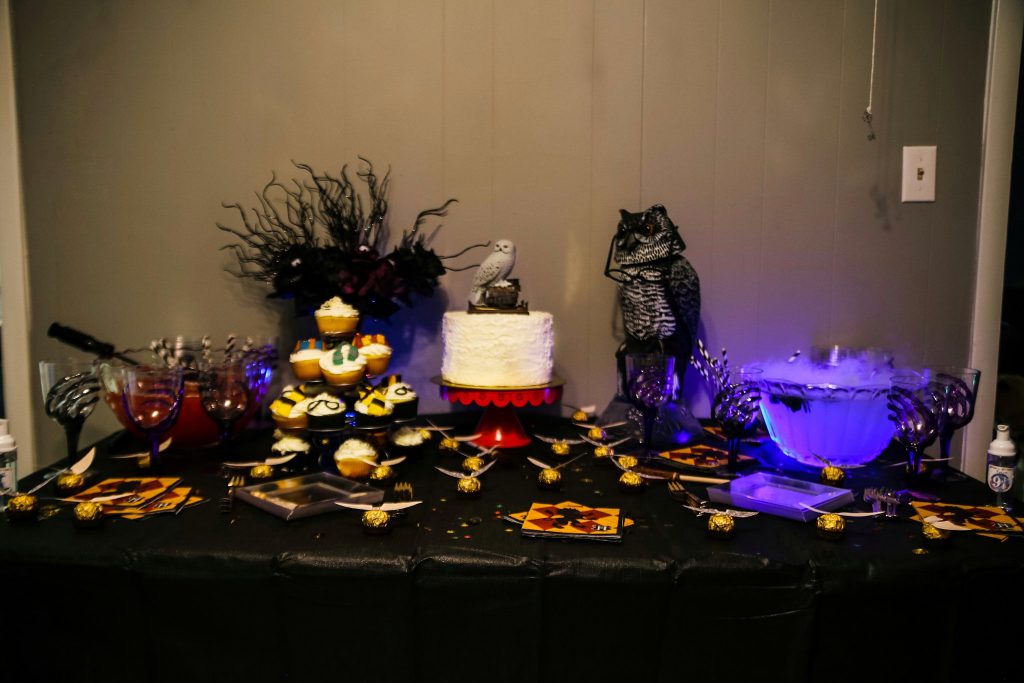 We had some really cute themed items for this party. In addition to the themed sanitizer & masks mentioned above, we also had HP glasses for guests to wear. We hung "flying keys" from the ceiling, and kept to the main colors from the 4 Hogwarts Houses. We also decorated the tables with cute confetti and mini cauldrons. I purchased some refillable spray bottles from Amazon, we placed "Flesh Eating Slug Repellent" labels on them and filled them with bug spray to minimize bug issues.
We had sorting house cupcakes & a super neat themed cake that when sliced into, it's layers were all the Harry Potter colors.
One thing we did, that I wouldn't necessarily recommend for your party, was the alcohol mini filled piñata. Though none of the mini bottles broke, I was terrified of it happening the entire time! 🙈🤣 It was kind of fun though!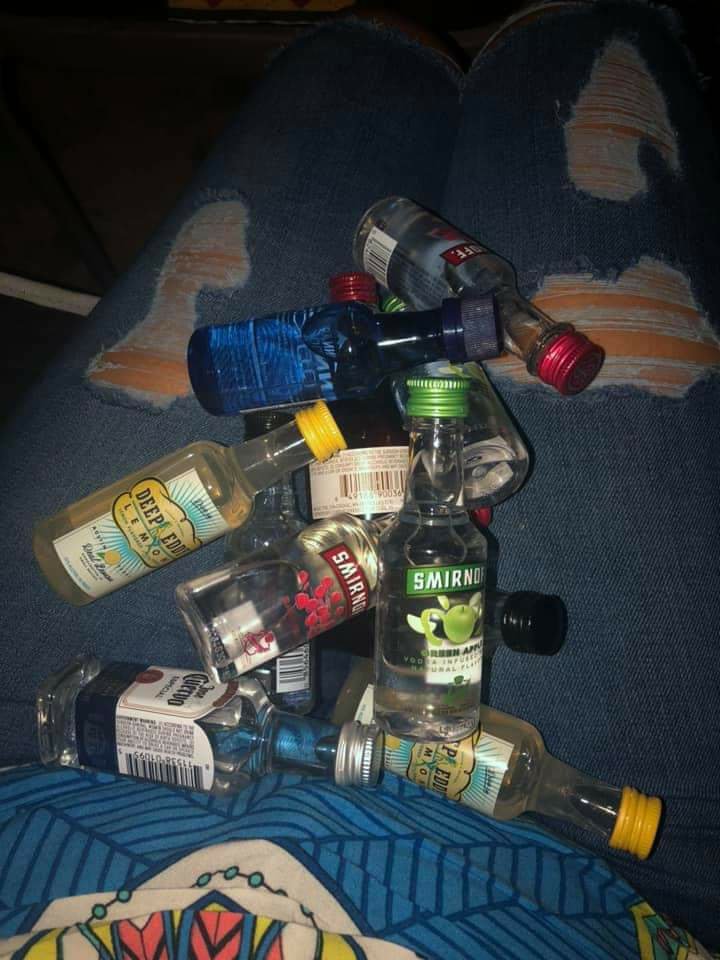 Golden Snitch Chocolates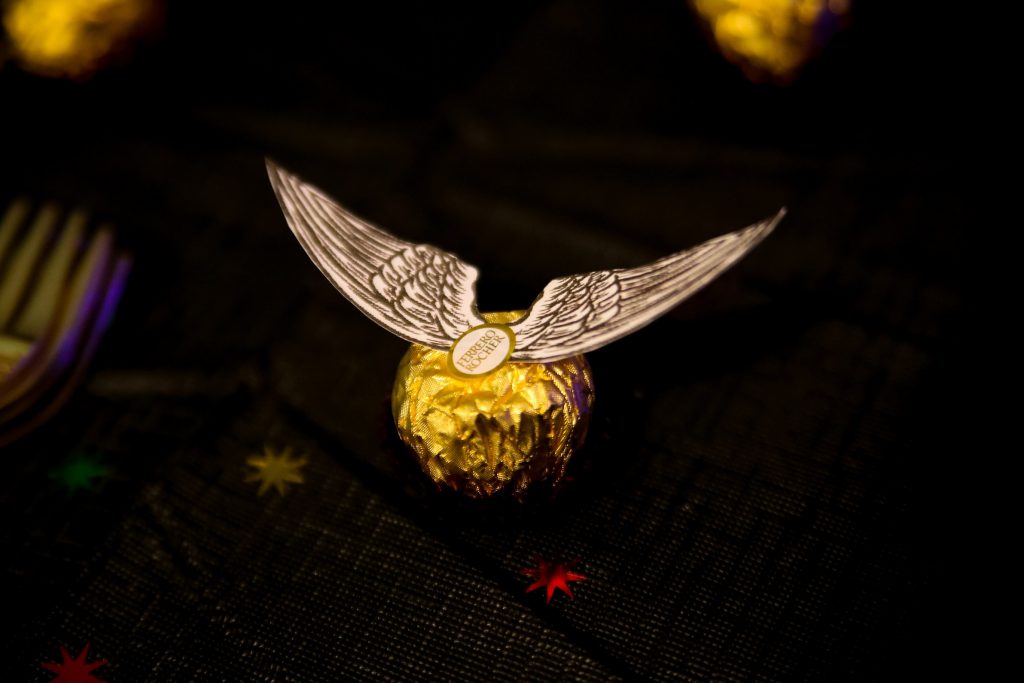 One of the simple, yet fun things we made were Ferrero Rocher Golden Snitches. You'll need these Printable Snitch Wings, scissors, glue, & obviously some Ferrero Rochers.
Steps:
After prepping your needed materials, one by one, take a Ferrero Rocher and remove the small sticker on the top. Don't throw it out, you'll need it again.
Place a set of wings on top of the Ferrero Rocher and use the small sticker to stick it in place. If it's lost its stickiness, use a small bit of glue to hold it in place.
Make as many Ferrero Rocher golden snitches as you need and display them on a serving platter amongst the rest of your Harry Potter party food and decorations!
Simple, right? They looked super cute all over the table, and as an added bonus, they were delicious.
Patronus Punch
I made a delicious Harry Potter themed punch for the party called Patronus Punch. It's super simple, looked super cool, and reminded me of drinking a mojito.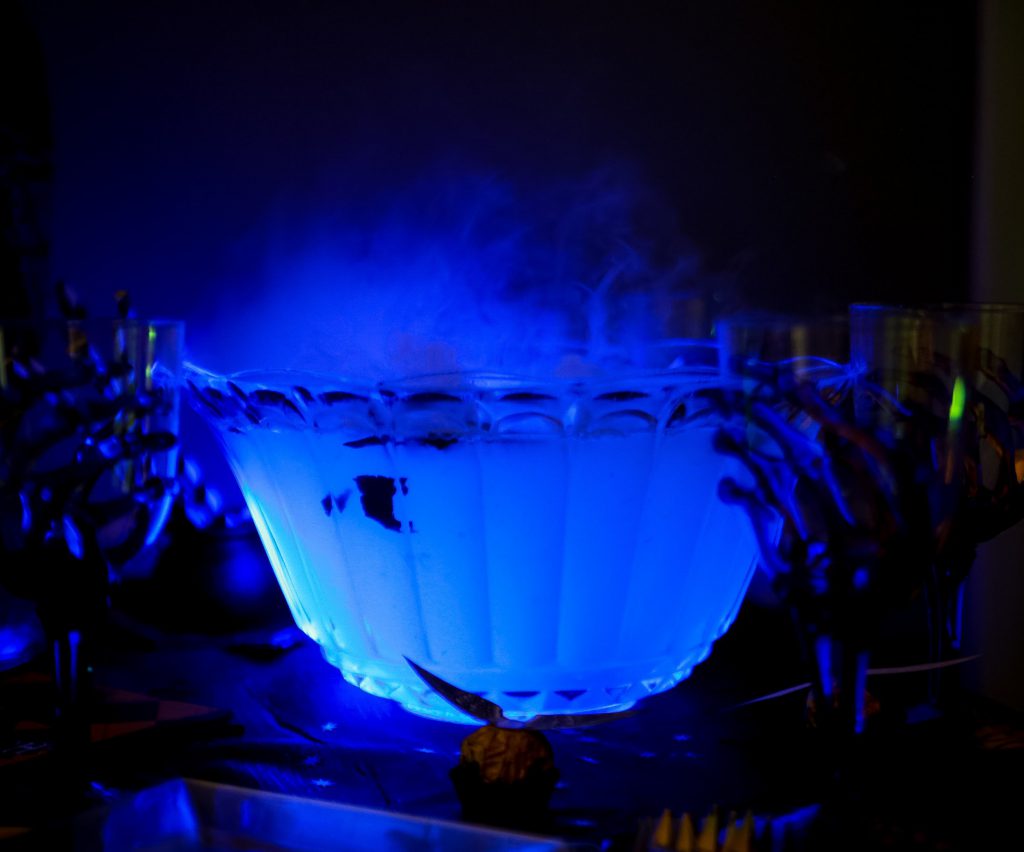 Purchase:
2 liter of sprite
1 can frozen limeade
1 liter of tonic water
Fresh mint
2 cups vodka
Black light/glow sticks/submersible lights
Dry ice
Tips:
Dry ice makes this drink even more magical, but the proper precautions must be used!
Use a glass bowl- the dry ice will crack plastic.
Only add dry ice if you're prepared to keep an eye on it. The last thing you want is someone getting a severe burn from not knowing how to properly interact with/swallowing dry ice.
Add as much or as little mint as you prefer.
You can substitute white rum for vodka to mix things up.
It also tastes yummy without the booze if you're needing a non-alcoholic option.
Overall, the party was amazing. We had a few minor hiccups, but when booze is involved, when are there not hiccups? 🤣
Just remember, with Covid running rampant through the US, if you can't offer proper saftey protocols, just wait and have the party once things cool down. In the long run, missing parties for one year isn't the end of the world.
If you enjoyed this blog, leave a comment below!