It's been awhile since we've updated everyone on Everett's progress the last year, so let's talk about how far he's come!
What is occupational therapy?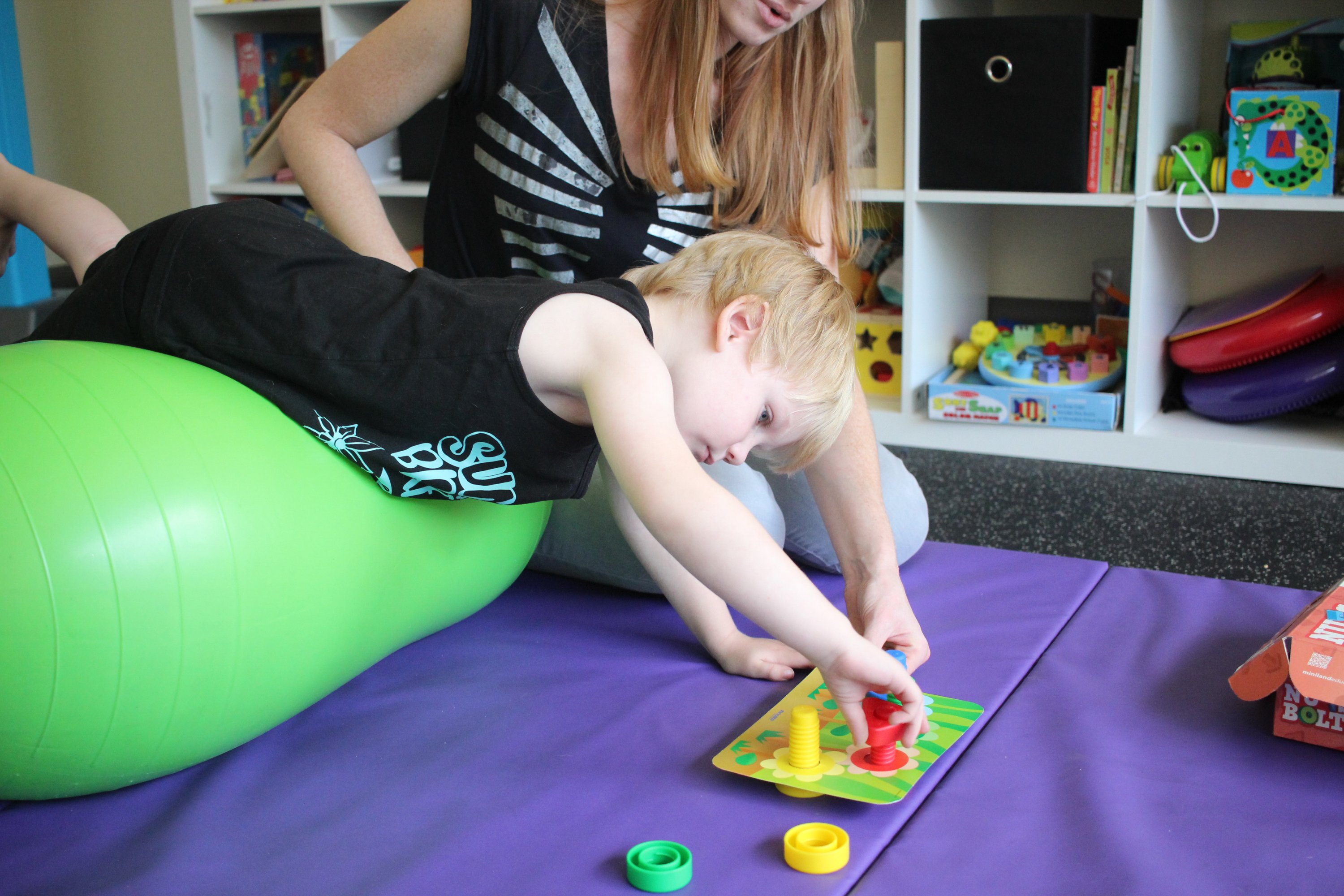 Occupational therapy (OT) treatment focuses on helping people with a physical, sensory, or cognitive disability be as independent as possible in all areas of their lives. OT can help kids with various needs improve their cognitive, physical, sensory, and motor skills and enhance their self-esteem and sense of accomplishment.
Everett's Therapy Routine
Everett receives OT 1 hour every Monday from Boost Kids (Shea). Shea has also helps him with feeding therapy and yoga. In addition to Boost Kids, he also receives 1.5 hours a week in therapy services from the local school system (speech, special ed, and OT).
A lot of what Everett's therapy looks like is play. Which is pretty awesome, because a child's most important job is playing after all. Everett needs extra help learning the appropriate skills and social interaction techniques to interact with other people.
Shea almost always starts Everett off with an obstacle course. This is one of Everett's favorite things to do. He even pretends to make them at home (sometimes we do our own), or if we're taking too long to start his session, he starts the course on his own! He loves his routines!
After the obstacle course they work on a variety of things from cutting skills to catching balls. They typically spend time working at the table (with things like drawing) and time working on more physical tasks. The physical tasks usually hit on a variety of areas, for example she'll use a peanut ball and have him stretch to grab a puzzle piece with one hand and find it's appropriate spot. She has him rotate his hands to work on motor planning, build muscle strength, and obviously the puzzle helps with more cognitive areas. Something you may not realize is that children with autism often have poor muscle tone, which leads to issues with balance in addition to limiting their fine/ gross motor skills. This is why the physical activities she provides are so important.
These types of activities that hone Everett's fine and gross motor skills are really helping him to catch up to his peers.
When we started with therapy, Everett had issues with things like cutting, jumping, crab walking, and blowing bubbles. It wasn't that he was incapable of learning it, he just lacked the motor planning capabilities. Over the last year he has grown leaps and bounds. He's even crab walking on his own!
Shea just tested him for his yearly evaluation last week. He's in a much higher percentile and scoring almost average in some categories! I'm so proud of him and his progress. Here are a few photos from his testing process. I loved being able to watch his skills and reasoning process.
Feeding Therapy
Here are a few photos from our feeding sessions.
When we do a feeding session, it's always 30 minutes feeding and 30 minutes yoga. Feeding Everett is a challenge. He doesn't eat most meats, veggies, and carbs. His diet is mostly hummus, guacamole, and fruit. We discontinued feeding therapy in the fall because we thought he was doing better and he was going to therapy right after school/lunch, so getting him to eat right away was tricky. Unfortunately, it's starting to get worse again, so it's looking like we'll be starting up again soon.
Yoga
Boost Kids also offers children's yoga classes. This is such a awesome thing. Yoga helps Everett strengthen his muscles, work on breathing skills, and he LOVES it! Every once in awhile, Everett will even request yoga during a regular OT session. Shea is awesome about accommodating his requests. One of the reasons why we love going to Shea is that she really goes out of her way to make Everett happy while still helping him achieve his therapy goals.
Yoga is truly one of Everett's favorite things now. He brings his yoga pose knowledge home and loves working on various poses at home. His favorite is tree pose!
Home Therapy
The therapy doesn't stop at those places either, we bring it home with us and utilize it when we can. One of the reasons we love Shea, aka Boost Kids, is that she's willing to work with me to teach me strategies to use at home. We bring in a lot of equipment, especially from our favorite sensory shop, Fun & Function.
Here are some cool items that Shea has recently helped us with (all items can be found at Fun & Function):
Here is a weighted knot ball. Everett fell in love with this at Fun & Function HQ, and I asked Shea how to best use it for Everett. She showed me how to give him a workout with it, by having him lift it up and down a couple times and by throwing it back and forth. She also used it as a weighted lap pad while he did situps. She also suggested letting him hold it during screentime.
One of our favorites, is this compression roller. It almost instantly calms Everett down and it's so fun to look at. In addition to rolling it across his body, he also rolls it across the floor when he does "push ups."
Another favorite is this cool marble tracker. Everett likes to twist it into puzzles/knots and solve it. Shea recommended having Everett take lead here, limited only by his imagination!
Here we have sensory twists. This was one of the ones that stumped me. They looked fun and Everett liked squishing them, but I needed some fun activites to use them with. Shea set up little cones and let him bowl with them as well as toss them on the tops of the cones. It was such a fun game and easy to recreate at home, especially for our obstacle courses! She also said it could be a fun item for bathtub sensory integration, but we haven't tried that yet.
We incorporate a lot into Everett's home therapy, but we also have a lot of fun too. I try to make the activites fun, sensory friendly, and a learning opportunity. I'd love to talk more about our cool sensory stations and rad therapist, but alas, it's bedtime and the wee beasties are definitely showing their inner monsters!